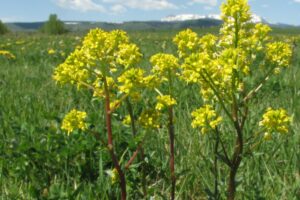 Legislative and Policy Action
CWMA is championing the industry by ensuring that rules and regulations at the state level help and not hurt your ability to perform your job. CWMA is part of coalitions that advocate for the industry by reviewing proposed legislation, taking positions and developing grassroots action.
Noxious Weeds
Noxious weeds are plants that are not native to our area. Most have come from Europe or Asia either accidentally or as ornamentals that have escaped. These plants have an advantage because the insects, diseases, and animals that normally controls them are not found here. Because these plants have developed specialized mechanisms to survive, they spread at an alarming rate.
Earn all your core credits for your CO applicators license at this in-person training held on December 6-7 in Pueblo, CO. Learn more.
Professional Development Grant Program – due by September 30
The Colorado Weed Management Association (CWMA) is offering professional development grants to support members interested in attending the CWMA Winter or Spring Training events. Learn more.
Are you passionate about preserving and protecting our natural resources from the degrading impacts of invasive terrestrial and aquatic species? We need YOUR leadership! Learn more.
Each year we honor some of our most amazing members and partners. We welcome your nominations for the following awards. The winners are announced at the Winter Training. Learn more.
A brand new program for you and your employees! We have two courses for technicians – one for unlicensed unexperienced technicians, covering 9 hours of required training, and the other for unlicensed experienced technicians, covering 4 hours of required training. Both are online and on-demand, giving you easy access to the training you need.
Learn more.
The recording is available for members in the CWMA Educational Library (click here to login with your membership credentials).