CWMA 2024 Board Nominations
Are you passionate about preserving and protecting our natural resources from the degrading impacts of invasive terrestrial and aquatic species? We need YOUR leadership!
CWMA is looking for active members to be a part of the 2024 CWMA Board of Directors. If you are interested or know of someone that is, submit your nomination using the button below or download the nomination form here and email to info@cwma.org.
Nominations are due by October 20, 2023.
CWMA 2023 Board of Directors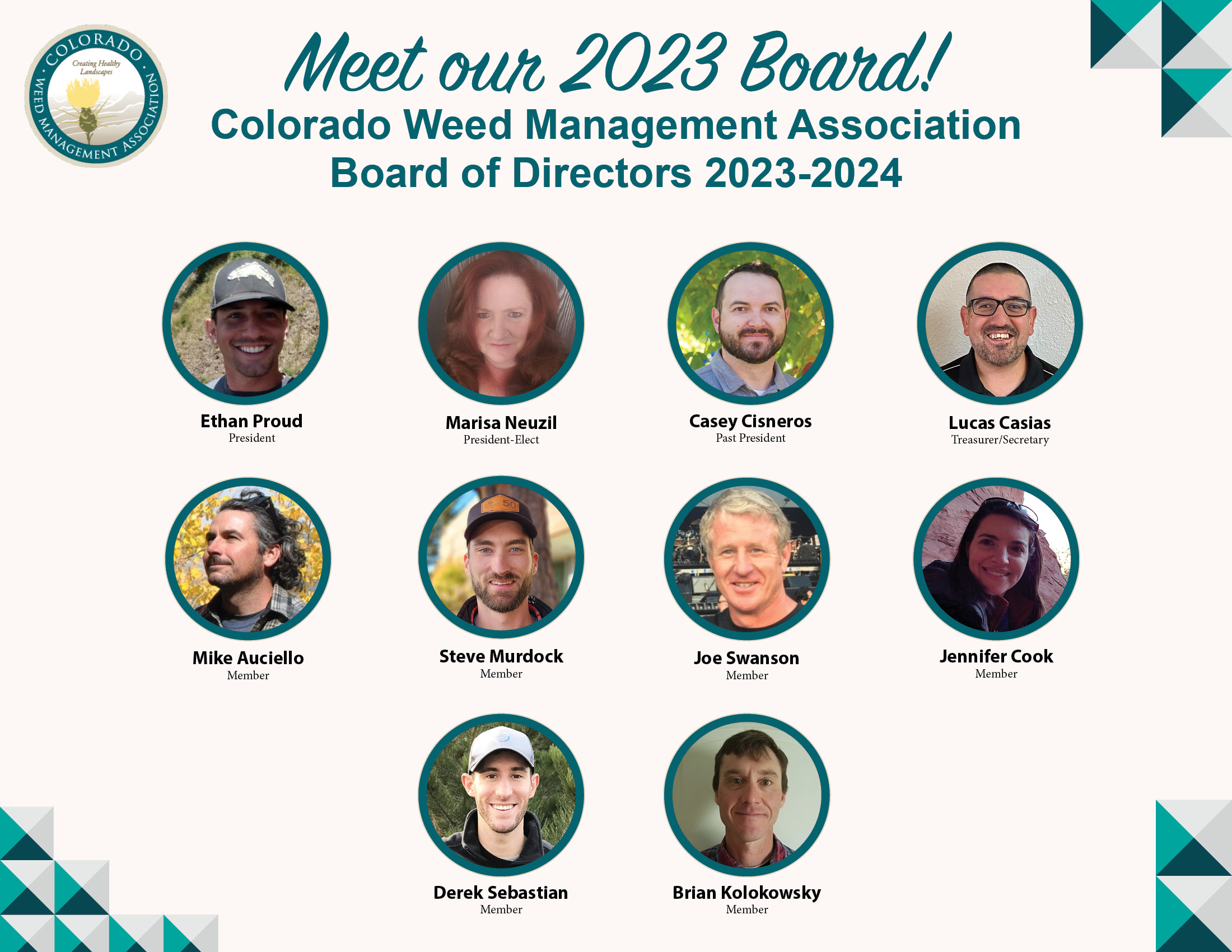 President
Ethan Proud
Archuleta County
Past President
Casey Cisneros
Larimer County
President Elect
Marisa Neuzil
Teller-Park Conservation District
Secretary/Treasurer
Lucas Casias
Costilla County
Brian Kolokowsky
Deep Root Tree Care & Weed Control
(2nd term, expires 12/2025)
Derek Sebastian (2nd term, expires 12/2023)
Envu
Jennifer Cook (2nd term, expires 12/2025)
Gilpin County, CSU Extension
Joe Swanson (2nd term, expires 12/2025)
Boulder County Parks and Open Space
Lucas Casias (1st term, expires 12/2025)
Costilla County
Mike Auciello (2nd term, expires 12/2025)
City of Fort Collins Natural Areas
Steve Murdock (1st term, expires 12/2025)
Jefferson County Open Space
Elizabeth Brown
North American Invasive Species Management Association (NAISMA)
Patty York
Colorado Department of Agriculture (CDA)
Executive Director
Monica Groh
PO Box 745485
Arvada, CO 80006
303-210-7077
info@cwma.org