Medusahead
Taeniatherum caput-medusae
Keys to Identification
An aggressive winter annual grass
The 4 inch inflorescence persists after the plant has matured
Family
Grass (Poaceae)
Other Names
Medusahead rye
USDA Code
TACA8
Legal Status
Colorado Noxious List A.
Not yet found in Colorado.
Identification
Lifecycle
Winter annual
Growth form
Grass. 6-24 in tall. Germinates in fall. Matures later than other annuals.
Flower
Long-awned spike. Head persists after seed fall. Awns are twisted, stiff when mature. May-June.
Seeds/Fruit
Awned-floret.
Leaves
Slender, rolled, 1/8 in wide.
Stems
Slender, jointed.
Roots
Fibrous.
Seedling
Yellow-green.
Similar Species
Exotics
Seedlings similar to downy brome.
Impacts
Agricultural
Unpalatable to livestock when mature. Aggressive. Degrades rangelands. Builds up duff layer that ties up nutrients and may contribute to fire.
Ecological
Degrades natural lands.
Habitat and Distribution
General requirements
Semi-arid clay soils.
Distribution
Present throughout New Mexico and is reported in Arizona, California, Idaho, Montana, Nevada, Texas, Oregon and Washington (USDA Plant Database).
Historical
Western US.
General requirements
Native to Mediterranean region.
Biology/Ecology
Life cycle
Annual.
Mode of reproduction
Seed.
Dispersal
Animal, wind, water.
References
Maurer, T., Russo M. J. (Revision), Godell A. (Revision); ELEMENT STEWARDSHIP ABSTRACT for Taeniatherum caput-medusae; http://tncweeds.ucdavis.edu/esadocs/documnts/taencap.pdf
The PLANTS Database, database (version 5.1.1) 2000; National Plant Data Center, NRCS, USDA. Baton Rouge, LA 70874-4490 USA. http://plants.usda.gov Reference for: Taeniatherum caput-medusae
Whitson, T.D.(ed.), L.C. Burrill, S.A. Dewey, D.W. Cudney, B.E. Nelson, R.D. Lee, R. Parker. 2001. Weeds of the West. Western Society of Weed Science, in cooperation with the Western United States Land Grant Universities Cooperative Extension Services, Newark CA. pg. 493.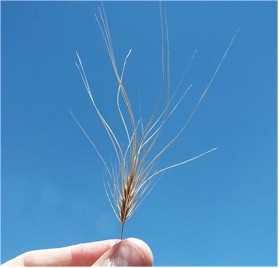 Photo courtesy of Sue Donaldson, UNCE